Neck Pain Treatment: How to Prevent Neck Pain While Sitting at Your Computer Desk
Neck Pain Treatment: How to Prevent Neck Pain While Sitting at Your Computer Desk
Written By James J. Hether, D.C. on October 15, 2019
---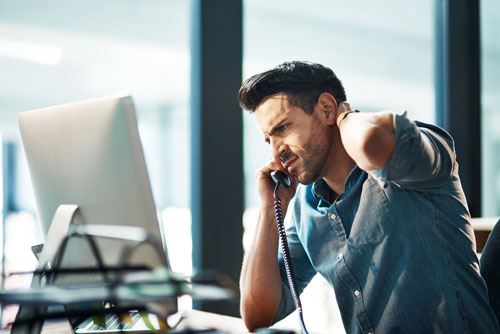 Do you suffer from neck pain after a long day at the office?
If you do, you may be working at your desk the wrong way!
Here are 3 different tips to keep your neck pain at bay and how chiropractic care is the perfect solution for neck pain treatment.
3 Tips for Neck Pain Treatment at Work
Implement these tips into your office routine to get significant relief from neck pain:
Practice Proper Posture
Having correct posture is critical for reducing neck pain. To practice proper posture, sit up tall and straight with your shoulders back and your feet flat on the floor. Unhunch your ears from your shoulders and make sure that your lower back touches the back of your chair. You will naturally slouch as the day goes on, so be mindful and correct your posture when you start to get sloppy
Take Mini-Breaks and Stretch Often
Take the time to take mini-breaks during your workday. One, 5-10 minute break every hour is wise. On your break, consider stretching at your desk, or walking to your car to induce blood flow and release tension from your neck and shoulders.
Adjust Your Computer Monitor
Make sure your computer monitor is always at eye level as you work. This position ensures that you are neither looking too far up or down – which can put a massive strain on your neck and cause soreness and stiffness later in the day.
Additional Neck Pain Treatment with Your DeLand Chiropractor
If you have implemented these 3 tips and still have neck pain, consider chiropractic care in DeLand, FL as another method of treatment.
With 22 years of chiropractic experience, Dr. James J. Hether, D.C. strives to educate his patients on proper posture and can perform spinal adjustments to help further neck pain healing.
If you would like to know more about how you can further protect your neck from pain at work, schedule an appointment today, or call 386-734-0702.

Posted In: Neck Pain