Benefits of Chiropractic Care After a Car Accident
Benefits of Chiropractic Care After a Car Accident
Written By James J. Hether, D.C. on March 5, 2021
---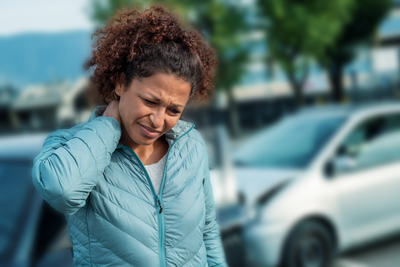 If you recently got into a car accident, you're probably feeling pain and discomfort throughout your body. Even if you didn't suffer a visible injury, your bones and nerves might still have suffered trauma due to the force of the collision. You should ensure you get proper medical care as soon as possible after the accident. A chiropractor can give you the professional treatment you need to start healing and get back on your feet again.
Treat Hidden Injuries After a Car Accident
Since the auto injuries you suffer are not always visible to the naked eye, getting a thorough checkup is essential to ensure you are in good health after an accident. Your chiropractor will carry out various tests such as x-rays and physical exams to determine the extent of your invisible injuries. Better yet, they will be able to offer you quick and noninvasive treatments to ensure the pain from your auto injury is alleviated as soon as possible.
Reduce Pain and Inflammation
The inflammation caused by your auto injury will often result in a lot of pain and discomfort. Proper spinal manipulation can entice your body's anti-inflammatory response to kick in, so your pain is reduced. This anti-inflammatory response will also stop your injury from getting worse by alleviating your internal swelling.
Restore Your Motion
Chiropractic care ensures a comprehensive approach is taken to treat your injuries, and this includes restoring your motion after the accident. Often, after an auto injury, you will find it difficult to move the way you used to and this nonmovement can make your injures worse. When proper adjustments are made by a chiropractor, your range of motion along with your strength is restored. This allows the blood and nutrients in your body to flow freely again, so you recover faster.
Choose Noninvasive Care with an Auto Injury Chiropractor
Dr. James J. Hether, D.C. is a licensed Chiropractic Physician and has been helping patients reach their health goals since 1997. He strives to use chiropractic care to help his patients recover after facing an auto injury so they can live the pain-free life they deserve.
Getting surgery and taking medications to heal is always an option after an auto injury, but these options always come with the risk of negative side effects. Chiropractic care is becoming a favorite option for many because it offers comprehensive and noninvasive care with minimal risks.
Book an appointment with Dr. Hether at the Hether Chiropractic Clinic today to start treating your auto injuries.

Posted In: Chiropractic Neck Pain Back Pain Whiplash Auto Injuries