Headache Treatment with Chiropractic Care
Headache Treatment with Chiropractic Care
Written By James J. Hether, D.C. on April 5, 2021
---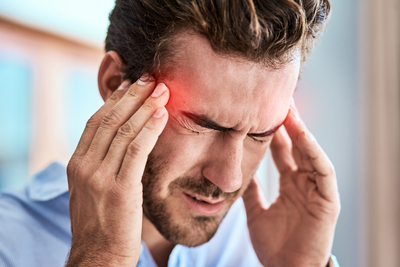 Headaches are the most commonly reported disorder of the nervous system. Whether you suffer from rare headaches or frequent bouts of debilitating pain, you might want to try chiropractic care to eliminate this discomfort from your life.
What Causes Headaches?
Before we dive into understanding how chiropractic treatments can help alleviate your headaches, you first need to understand what causes this pain to begin with. Headaches can occur for a variety of reasons, and they are often triggered by external stimuli.
Some examples of headache triggers include:
Exposure to certain foods
Spending time in areas full of noise or bright light
Excessive stress
Not getting enough sleep
Exercising too much
Sudden changes in your blood pressure
Bad posture
You can't be sure what triggered your headache until you get in touch with a medical practitioner and undergo a thorough health assessment. If your headaches are taking a toll on your life and preventing you from carrying out your daily tasks, you should turn to chiropractic treatments to get the relief you so desperately need.
How Can Chiropractic Treatments Alleviate Headaches?
When you visit the Hether Chiropractic Clinic, your chiropractor will carry out an initial health assessment and then conduct spinal adjustments to reduce the stress in your body. Alongside these adjustments, he will also offer you proper nutritional advice and instructions on adjusting your posture, so your headaches are prevented in the future. Your chiropractor may also advise you to carry out certain exercises on a daily or weekly basis to maintain a pain-free life.
Apart from getting proper medical treatment, the American Chiropractic Association (ACA) recommends certain points to help alleviate your headaches. You should try to stretch often and avoid sitting in one position for long periods. You should also avoid habits such as clenching your teeth and allowing yourself to get dehydrated, as doing this regularly can result in recurring headaches.
Visit a Chiropractor Today
Since 1997, Dr. James J. Hether, D.C. has helped his patients live their best life with noninvasive chiropractic care. He is a licensed Chiropractic Physician, and his main goal is to help you live a life void of pain and discomfort through comprehensive health treatments.
With chiropractic care available, you no longer have to opt for invasive surgical treatments to free yourself from experiencing persistent headaches.
Book an appointment with Dr. Hether at the Hether Chiropractic Clinic today to get the headache treatment you need.

Posted In: Chiropractic Headaches